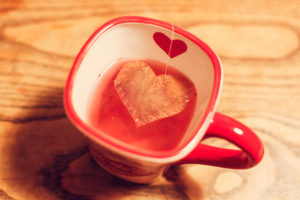 Hey, ladies and gents, I'm baaaaaaaaack! 😀 How's everyone been? Very glad to be joining you again for a fun Sunday full of reading and writing. Since I'm currently adding words to Steeped in Love, I figured I'd share some snippets of the additions with you. Without further ado, let's find out what Ethan and Addie are up to!
I'll pretend to care? What am I, twelve?
Ethan sighed as he flipped through his very own copy of The Daily Dispatch. He'd slipped out to purchase the local paper approximately sixty seconds after Addie left, then returned to his still-warm seat in the coffee shop. He skimmed over the wacky town events and sped through the story of some guy named Joe who'd started a Go Fund Me campaign to have his bunions removed. Shuddering, he turned to the sports section, happy to read about the Kendal High Knuckleballers baseball team capturing another big win in their division. They had a tournament coming up. Maybe he'd tried to catch a game or two. As a kid, he'd taken up the sport more as a way to curb the questions that always plagued him when asked what his interests were. Writing never seemed to satisfy his critics–still didn't.
Here's the blurb:
Addie Mitchell is a pie-on-the-fly entrepreneur who's finally ready to settle down in the big, empty house her late great-aunt Edna left to her. Frustrated with her lack of success in romance, Addie turns to another gift her great-aunt passed on to her—the art of reading tea leaves—to aid her in her search for the ideal mate. 
Novelist Ethan Holtz is having a hard time sinking his teeth into his next project, but he finds Addie fascinating. Mainly for her ability to make her dates disappear in fifteen minutes or less. He can't help but eavesdrop on her dates in the local coffee shop, his writing haven, and soon finds himself taking pointers on what not to do from her failed suitors.
Though her methods seem nothing short of mad, he falls fast and hard for the pixie-haired pie-pusher. She thinks they're all wrong for each other, but Ethan teams up with the tea leaves to prove they're so right.
Thanks so much for stopping by and be sure to visit the other Weekend Writing Warriors! 
Well, I had an absolutely amazing time on both my trips, despite the unexpectedly chilly weather. I didn't even put on my bathing suit whilst in Florida, but the sun still shone, the ocean waves still crashed upon the shore, and my family made the trip extremely special. Now, as for Arizona, it's the most picturesque place I've ever visited. I honestly couldn't get over the scenery. And the Grand Canyon was breathtaking. Literally. My heart was pounding even while I stood well back behind the railing, but I couldn't resist getting closer. So close I was actually sitting right on the edge, and I could have stayed there for hours. I will never, ever forget that feeling, and I am most definitely going back, hopefully with my girlfriends again! I'll share some pics in my vacation post later this week. I wish you all a fantastic week ahead and a very 'hoppy' Easter! 🙂