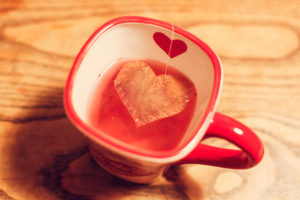 Heya, folks! Sorry about missing last week. I forgot I'd be at my Dad's place (a.k.a The Land Without Internet). On the plus side, that bought you a bonus week before the end of Steeped in Love. But now the time has come, I'm afraid. Hope you've enjoyed the snippets I've shared from the first chapter. Without further ado, here's the final one.
Continuing from where we left off….
"I have another date on Friday," she blurted.
"Hope he's thick-skinned."
Rolling her eyes, she said, "I'll be sure to not ask for your opinion about it."
"I'll pretend to care." 
Addie turned on her heel, biting her lip to keep the grin that threatened from breaking free. She was already looking forward to Friday, and the possibility of sparring with Ethan again had nothing to do with it. Much.
Here's the blurb:
Addie Mitchell is a pie-on-the-fly entrepreneur who's finally ready to settle down in the big, empty house her late great-aunt Edna left to her. Frustrated with her lack of success in romance, Addie turns to another gift her great-aunt passed on to her—the art of reading tea leaves—to aid her in her search for the ideal mate. 
Novelist Ethan Holtz is having a hard time sinking his teeth into his next project, but he finds Addie fascinating. Mainly for her ability to make her dates disappear in fifteen minutes or less. He can't help but eavesdrop on her dates in the local coffee shop, his writing haven, and soon finds himself taking pointers on what not to do from her failed suitors.
Though her methods seem nothing short of mad, he falls fast and hard for the pixie-haired pie-pusher. She thinks they're all wrong for each other, but Ethan teams up with the tea leaves to prove they're so right.
Thanks so much for stopping by and be sure to visit the other Weekend Writing Warriors! 
February has started off very busily for me. I'm teaching three Art classes on a full-time basis at Rideau High School at least until the end of the month. It's totally awesome…well, other than me having zero qualifications in Art, but I'm wingin' it! My online Science course is going great so far. I just finished my first module. Only three to go! I officially booked my flight to Florida for March break with the family, and not even a week after that I'll be heading to Arizona with my best gal-pals! Plenty of fun in store. Wishing all of you a fabulous week ahead! 🙂