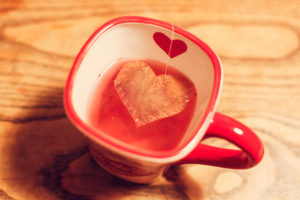 Hello, hello! How's everybody doing? Can you believe January's almost over? I'm afraid the snippets from Steeped in Love are, too. We're almost through all of chapter one. Sad but true. Savour the sips while they last, my friends. 😉
Continuing from where we left off….
"Aren't you trying to find 'the one'?" Her head jerked up. "Give the guy a chance."
"You seem to know an awful lot about me, Mr…."
"It's Holtz, but let's not go getting formal now since your insults broke the ice."
Addie returned the barely broken-in notebook to the table and he immediately repositioned it a fraction of an inch, out of pure rebellion, no doubt.
"I'm observant," he continued. "We author-types tend to notice things–people, places, social interactions. I guess our own lives are far too mundane."
She ignored the obvious jab, suppressing the urge to point out that he'd failed to notice the cherry filling clinging to the corner of his mouth…because if she pointed that out, she'd have to admit she'd been staring at his mouth.
Here's the blurb:
Addie Mitchell is a pie-on-the-fly entrepreneur who's finally ready to settle down in the big, empty house her late great-aunt Edna left to her. Frustrated with her lack of success in romance, Addie turns to another gift her great-aunt passed on to her—the art of reading tea leaves—to aid her in her search for the ideal mate. 
Novelist Ethan Holtz is having a hard time sinking his teeth into his next project, but he finds Addie fascinating. Mainly for her ability to make her dates disappear in fifteen minutes or less. He can't help but eavesdrop on her dates in the local coffee shop, his writing haven, and soon finds himself taking pointers on what not to do from her failed suitors.
Though her methods seem nothing short of mad, he falls fast and hard for the pixie-haired pie-pusher. She thinks they're all wrong for each other, but Ethan teams up with the tea leaves to prove they're so right.
Thanks so much for stopping by and be sure to visit the other Weekend Writing Warriors! 
Semester one is winding down and report card season is upon us, yet again. And life…life is crazy-busy. It'll be hard to find time to write in between readings and assignments for the new Additional Qualifications course I'm taking, marking and submitting report cards, preparing for semester two, editing for my crit partner, judging Golden Heart entries, dating, and trying to take over the world. I will stick with the writing, though. It's what I love, and I am entirely grateful to all of you for the support and encouragement. Hope the new month ahead is a productive one for all of us! 🙂