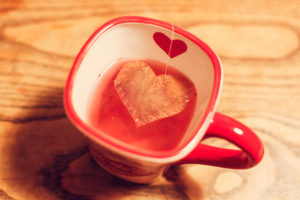 Happy New Year! Hope you've all been enjoying the holiday season with your loved ones. Who's ready to check back in with Ethan and Addie from Steeped in Love? Let's hop to it, then!
Continuing from where we left off….
She took a step closer, admiring the half-eaten pastry on the plate next to his laptop. "How are the danishes here?"
"I never eat anything else."
Impossibly long, thick eyelashes swept down over his hazel eyes, and freckles dusted his cheeks. 
She reached out her hand to shake his, hoping at least one guy would meet the gesture. Startled, he wiped his palms on his pants and accepted her offering. The warmth from his hand radiated into her own. "I'm Adelaide, or Addie for short."
"Ethan."
They held on a little bit longer than was probably right for almost-strangers.

Here's the blurb:
Addie Mitchell is a pie-on-the-fly entrepreneur who's finally ready to settle down in the big, empty house her late great-aunt Edna left to her. Frustrated with her lack of success in romance, Addie turns to another gift her great-aunt passed on to her—the art of reading tea leaves—to aid her in her search for the ideal mate. 
Novelist Ethan Holtz is having a hard time sinking his teeth into his next project, but he finds Addie fascinating. Mainly for her ability to make her dates disappear in fifteen minutes or less. He can't help but eavesdrop on her dates in the local coffee shop, his writing haven, and soon finds himself taking pointers on what not to do from her failed suitors.
Though her methods seem nothing short of mad, he falls fast and hard for the pixie-haired pie-pusher. She thinks they're all wrong for each other, but Ethan teams up with the tea leaves to prove they're so right.
Thanks so much for stopping by and be sure to visit the other Weekend Writing Warriors! 
Well, I'm about to start the second week of my holidays. The first week was filled with food (way too much food, but oh-so-delicious food), family, fun, laughter, and so much goodness. I am so blessed. I don't know about you, but I'm kicking off the new year with writing, writing, and more writing! I wish you all a healthy, happy, prosperous 2017! May all your dreams come true! xo 🙂