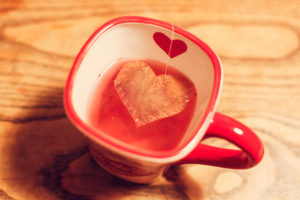 Top of the muffin to you, my dear friends! How about a hot cup of Steeped in Love to go with it? Comin' right up!
Continuing from where we left off….
Damn, he had a nice ass. Props on covering the tab, too. From now on, if she was enjoying the date, she'd drink slower.
She rose to her feet, turning toward the counter to say goodbye to Gwen. The woman known for making the best espresso in a twenty-mile radius was the closest thing Addie had to a best friend. She wouldn't call herself a Cup-A-Cabana regular, but she visited enough to form a tight bond with the barista. And despite her less than frequent appearances, on every visit she'd noticed the man at the corner table next to the window–the writer guy who was more than a touch mysterious. He was so quiet, so focused, even with all the goings-on around him.
Her frank perusal must have pulled him from whatever world he was creating. He lifted his gaze from his computer screen, turned around, then swiveled to face her once more, as if to confirm that she was, indeed, looking at him.
Here's the blurb:
Addie Mitchell is a pie-on-the-fly entrepreneur who's finally ready to settle down in the big, empty house her late great-aunt Edna left to her. Frustrated with her lack of success in romance, Addie turns to another gift her great-aunt passed on to her—the art of reading tea leaves—to aid her in her search for the ideal mate. 
Novelist Ethan Holtz is having a hard time sinking his teeth into his next project, but he finds Addie fascinating. Mainly for her ability to make her dates disappear in fifteen minutes or less. He can't help but eavesdrop on her dates in the local coffee shop, his writing haven, and soon finds himself taking pointers on what not to do from her failed suitors.
Though her methods seem nothing short of mad, he falls fast and hard for the pixie-haired pie-pusher. She thinks they're all wrong for each other, but Ethan teams up with the tea leaves to prove they're so right.
Thanks so much for stopping by and be sure to visit the other Weekend Writing Warriors! 
One more week to go before I'm on Christmas break! Normally we'd get off a little earlier in December, but this year the teachers voted for a longer break post-Christmas so we could relax a bit more once the craziness of the holidays quieted down. I don't have to be back in the classroom till January 9th! Woohoo!
In other extremely exciting news, I'm *fingers crossed* soon to be dancing with Ellen DeGeneres again! Check out this post/watch my YouTube vid to learn more! 🙂
Aaaaand that's all she wrote! Have a fabulous week, my friends!