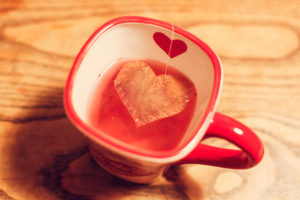 Good morning and happy Sunday, my friends! It's been a crazy week, eh? Well, hopefully a sample of Steeped in Love will help to soothe and calm those of you feeling particularly on edge. At the very least, it'll be a nice distraction. 🙂
Continuing from where we left off….
He chuckled, leaning in closer, lowering his voice so only she could hear him. "I meant…bedroom activities."
She nodded like a bobble-head doll because that's the only thing she could think to do. Her brain screamed, 'Panic! Code red! Danger, Will Robinson!' Her blood pressure spiked to Mount Everest heights. But outwardly she was totally calm and cool and collected and…holy hell, when did it get so hot in here?
"What's your favorite position?" he murmured.
Okay, she hadn't dated in a while, but from her experience, dates usually passed the thirty minute mark before they took a decidedly sexual turn. And in those cases, maybe a bit of teasing innuendo was thrown into the conversation, then brushed aside as appetizers arrived or drinks were served. Ten minutes with this guy and he already wanted to know if she preferred missionary or doggy-style.
Here's the blurb:
Addie Mitchell is a pie-on-the-fly entrepreneur who's finally ready to settle down in the big, empty house her late great-aunt Edna left to her. Frustrated with her lack of success in romance, Addie turns to another gift her great-aunt passed on to her—the art of reading tea leaves—to aid her in her search for the ideal mate. 
Novelist Ethan Holtz is having a hard time sinking his teeth into his next project, but he finds Addie fascinating. Mainly for her ability to make her dates disappear in fifteen minutes or less. He can't help but eavesdrop on her dates in the local coffee shop, his writing haven, and soon finds himself taking pointers on what not to do from her failed suitors.
Though her methods seem nothing short of mad, he falls fast and hard for the pixie-haired pie-pusher. She thinks they're all wrong for each other, but Ethan teams up with the tea leaves to prove they're so right.
Thanks so much for stopping by and be sure to visit the other Weekend Writing Warriors!
I spent this weekend catching up with family and spending some quality time with my adorable little nephew who's way-too-quickly approaching two! Today, Dad and I plan on washing our vehicles together, then I'll get in one last load of laundry before I head back to Ottawa. What? *whistles innocently* Hopefully, at some point, I'll squeeze in some writing as well. I have NaNo-ing to do! Wishing you all a positive and productive week ahead! xo