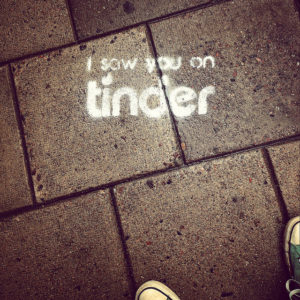 For those who've experienced the world of online dating, you know that profiles can only reveal so much about your prospective matches. Some guys are very upfront and honest. If they have kids, they say so, and in some cases they even post pictures of themselves with their kids. If they're covered in tatts or piercings, usually those will be revealed in the obligatory shirtless pic in front of a dirty bathroom mirror. If they like exotic animals, you're guaranteed to see a tiger or an anaconda pop up in one of the photos. Sometimes other anacondas pop up…which results in a hard swipe to the left.
And then there's the last two guys I've dated. The first, Grant, was great. Very cute, an excellent conversationalist, everything his profile claimed him to be and more. Except the one part he left out–that all-too-critical part: he wouldn't be available to date for the rest of the summer. And he played in two bands and didn't really have a lot of free time during the rest of the year, either. But we should totally keep in touch. Riiiiight.
That takes us to Baby Blue, Mr. Kevin Kennedy. For those who read my last blog post, Kevin hit a homerun on date number one this past Monday. He far surpassed my expectations, so of course I agreed to a second date, last night. Kevin had a long day at work and accidentally fell asleep, so our date started a few hours later than intended, but he insisted on driving to my place to pick me up for a late-night stroll.
First, we stopped at Timmy's and got some beverages, then we went down to Hog's Back Falls, followed by a leisurely walk along the beach at Mooney's Bay. The largest children's playground in all of Canada is located there. It was after 10 o'clock, we were all alone, so naturally we decided to play.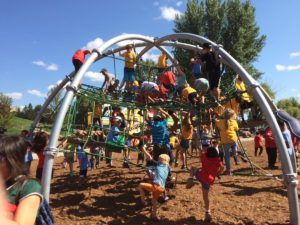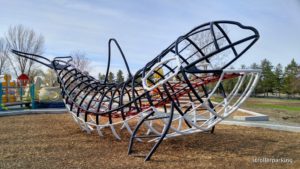 While we were seesawing atop a wooden canoe, I saw a shooting star go zipping by. Kennedy was disappointed he missed it, but seconds later we both saw a second star shoot across the sky.
I wished upon both those stars. I wished for this to be my year to find Mr. Right. Would it be Baby Blue?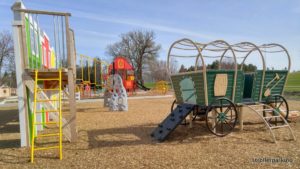 We were hanging on the covered wagon when he asked me if I wanted kids, which was hardly suitable covered wagon talk. I mean, I barely know the man! Ahem. I told him, "Yes, I'd love to have kids one day. How about you?" He said, "I have a son. Had him when I was 18. He's 21 now."
I'm glad it was nighttime so he couldn't see all the colour drain out of my face. "Oh?" I said. "Just the one kid?" He shook his head. "I have a six-year-old, too. I don't get to see him, though. That ended pretty messy, cops got involved, spent the night in jail…."
Huh. Not exactly what I wished for, shooting stars. Think we got our signals crossed there. I reacted as not-freaked-out as I could, and we carried on with the date, but it was pretty clear he was of the 'been there, done that, failed at the daddy thing' mindset, and not at all interested in trying again.
So that's that. Buh-bye, Mr. Kennedy.
If these guys I'm dating continue to drop bombshells, maybe I'M the one who needs to be more clear right out of the gate. Here's the new profile I'm working on. Let me know what you think.
Hi! I'm Julie. I'm 34, never been married, have 0 kids. Don't smoke, occasionally drink pink girly drinks. I won't give you herpes (looking at you, Usher), and I want babies. At least two of 'em. I'd prefer that you don't have any kids of your own, but if you do, I hope you're a really good father who doesn't shy away from gushing about them. I'd like to get married and plan on having at least three choreographed dances throughout the reception, so I hope you can dance…or are willing to for me. I'm crazy about my family, I eat peanut butter by the boatload, I randomly burst into song (occasionally at inappropriate times), and I'm a really, really good girlfriend. Your parents will love me, assuming you still talk to your parents. So here's my number. Call me, maybe?
Hey, we still have a few months left in the year, my shooting stars. It could still happen…