Hello, my friends! Since you're here 'cause you like books and reading and stuff, let me tell you a little story….
My adventures in authoring began back in 2012. That was a very, very good year for me. On April 1st, of all days, I received the email every hopeful author dreams of, the one that says something along the lines of 'I want your book!' Cue the dancing and the crying and the hysterical laughter. I opted to publish under a pen name. It seemed to be the thing to do at the time, and it was kind of awesome having two separate identities. Until I realized that having two identities is a lot of work. Oy, the work. I got used to it after a while, but I never felt entirely comfortable. I felt a bit like I was hiding. Probably because I WAS hiding…behind a pen name and a cartoon image. Well, lo and behold, I got tired of pretending to be someone else, so I decided, oddly enough, to be myself – Julie Evelyn Joyce (Doner).
The biggest inspiration of all in my desire to make a change was my mother. She supported me in everything I did, but she always wished I'd write something I could put my name on and shout from the rooftops, claiming it as my own. I lost my mom unexpectedly in February, 2016, before I could tell her I was making this change, but I know she knows, and I know she's proud.
If you want to get a better sense of my writing style, let me put it to you this way: I write way outside the box. When I get struck with an idea, I can guarantee it's something that's never been done before. Like a love story between a mime and a clown, or a romance that sparks in a phallological museum. By the time you finish a story of mine, you'll believe love can happen between anyone, anywhere, and you'll always have a smile on your face. 🙂
My debut story under my actual name is called Steeped in Love. It's currently in the hands of several publishers, so cross your fingers for me! In the meantime, here's a blurb: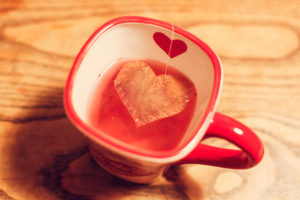 Addie Mitchell is a pie-on-the-fly entrepreneur who's finally ready to settle down in the big, empty house her late great-aunt Edna left to her. Frustrated with her lack of success in romance, Addie turns to another gift her great-aunt passed on to her—the art of reading tea leaves—to aid her in her search for the ideal mate. 
Novelist Ethan Holtz is having a hard time sinking his teeth into his next project, but he finds Addie fascinating. Mainly for her ability to make her dates disappear in fifteen minutes or less. He can't help but eavesdrop on her dates in the local coffee shop, his writing haven, and soon finds himself taking pointers on what not to do from her failed suitors.
Though her methods seem nothing short of mad, he falls fast and hard for the pixie-haired pie-pusher. She thinks they're all wrong for each other, but Ethan teams up with the tea leaves to prove they're so right.
My current work in progress is called Nutcases. I plan on pitching the heck out of it at Fiction Fest in Connecticut this September. Here's a little blurby for it: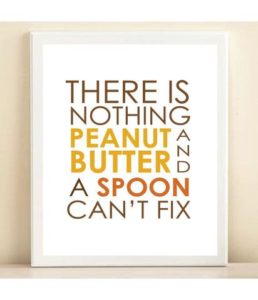 It's the year 2040. Peanut butter has been banned by the government. Desperate for a taste of their favorite treat, Morgan Rappaport and Clark Straub start an underground peanut butter bootlegging operation. With government agents in hot pursuit, will these two nutcases succeed, or crack under the pressure?
So that's where I'm at in terms of writing at the moment, but I have a feeling big things–wow things!–are in store in the months to come! Hope you're here with me to celebrate! 😀